LiveAndBuild is now updated to Minecraft 1.17!
Some things to note:
The worldborder has been increased to `500000` from `250000`
Please report any bugs in ❓support
Hello everyone! We will be hosting a MAZE RUNNER event tomorrow Sunday January 10th @ 1PM Eastern Time (https://bit.ly/3nAEJwt)
The maze is 200×200 blocks and can be accessed by going to /warp maze
Contestants are encouraged to log in at 1PM ET and navigate to /warp maze, however the event will start officially at 1:30PM ET, this is when the maze will open.
Late entries will be accepted, however understand that your likeliness of winning will decrease significantly for every minute the maze is open.
There will be 3 official winners declared:
1st Place: $25 LAB Gift Card + Premium Membership (or rank upgrade)
2nd Place: Premium Membership (or rank upgrade)
3rd Place: $50,000 in-game money
Everyone who completes the maze will receive a collectible in-game trophy!
Notice: All commands are disabled while in the maze – if you wish to forfeit you must notify a Staff or Admin.
Warning: Any attempts to cheat will result in disqualification and possible disciplinary actions.
1 WEEK NOTICE

By popular request, the Nether and The End will be regenerated on Monday January 11th!
ALL Residences, block protections, and homes set in these worlds will be DELETED.
If you have any valuable items stored in these worlds I strongly suggest that you transfer them to the overworld ASAP.

THIS IS NOT A DRILL
The votes are in! Both the Nether and The End will be reset, this means that all residences will also be removed in these worlds. If you wish to keep any items, please transfer them to the overworld ASAP! Both worlds will be reset on January 11th.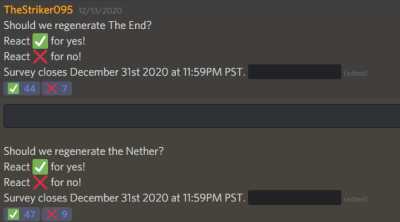 Happy New Year! Thank you everyone for helping us welcome in 2021 Over $300 in LiveAndBuild Gift Cards were given out, if you qualified to receive one; you will find it in your mailbox by using the command /mail read in-game.