Happy Holidays!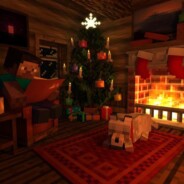 From our home to yours, may your holiday season be safe and joyful.
As is tradition, spawn has been decorated with presents, trees, and ornaments. Santa and his reindeer have even come for a visit!
For a limited time we are selling gift cards! Gift cards never expire.
To purchase a gift card, visit: https://store.liveandbuild.net/package/4212366
Now and until December 31st, save 50% on Memberships (including upgrades), use code SANTA at checkout.