The votes are in! Both the Nether and The End will be reset, this means that all residences will also be removed in these worlds. If you wish to keep any items, please transfer them to the overworld ASAP! Both worlds will be reset on January 11th.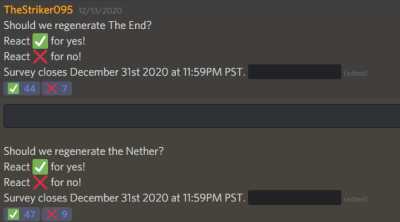 Happy New Year! Thank you everyone for helping us welcome in 2021 Over $300 in LiveAndBuild Gift Cards were given out, if you qualified to receive one; you will find it in your mailbox by using the command /mail read in-game.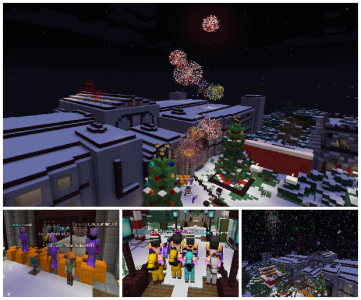 Join us on December 31st for a fireworks show to welcome in the new year! We will be handing out fireworks to all attendees and will also do some fun activities! Fireworks will start at 11:59PM ET (https://bit.ly/3nAEJwt) on December 31st
Ultimate+ Membership includes all features of Ultimate Membership plus you also receive 50 mcMMO Levels and $250,000 (in-game currency) monthly, a $25 value! All for only $14.99 per month.
To purchase Ultimate+ click here.
For a list of features included in Ultimate Membership, visit: https://liveandbuild.net/membership
You will begin receiving 50 mcMMO Levels and $250,000 (in-game currency) on a monthly schedule effective your 2nd billing cycle.
mcMMO Levels can be redeemed and distributed toward any skill!
$14.99 is billed monthly and can be cancelled at anytime.
Hello everyone!
Did you know that all our our store packages can be gifted? That's right, simply select "Gift This Package" when adding a package to your basket! Give the gift of a lifetime LiveAndBuild.Net Membership or mcMMO levels this holiday season!
Visit https://store.liveandbuild.net/ to browse packages.